Snacks are a must-have when traveling with a toddler, but finding snacks that are both healthy and travel well can be a challenge. After a lot of trial and error, we have found a few snacks that we swear by.
Brothers-ALL-Natural Fuji Apple Crisps

We discovered these freeze-dried apple slices about a year ago and now they are an absolute must-have in our pantry. I love the fact that apples are the only ingredient and there are no preservatives or nasty stuff.They are crispy like potato chips, so our toddler thinks he is eating junk food when he is actually eating a healthy snack. Brothers has other types of fruit as well. The strawberries and bananas are good, but they are crumbly and make too much of a mess for traveling. The Asian pears are actually the best, but for some reason the pears do not have free shipping through Amazon. So, I recommend the apples.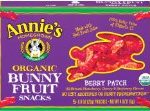 Annie's Homegrown Organic Bunny Fruit Snacks

These gummy snacks have saved us on countless outings with our toddler. While they aren't quite as healthy as the apple slices, I don't feel too guilty about them. The nice thing about gummies is that they take longer to eat, so they last awhile. Plus, they aren't really filling, so they don't spoil his dinner too much. They sell them in individual packages, but I buy the bigger bags and use little travel containers. We have a lot less waste this way because I can portion them out better.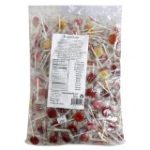 YummyEarth Organic Lollipops

We bought these before our first airplane ride with our toddler. I read somewhere that when you fly with a toddler, you should give them a lollipop or a pacifier during takeoff to keep their ears from popping. Of course, lollipops come in handy in other traveling situations too. I chose these because they are made with fruit juice instead of sugar and crazy preservatives. If you haven't introduced your toddler to lollipops, try them at home first. The first few times were pretty messy because our toddler didn't really know how to keep his mouth closed around the stick yet. He would just sit there smiling and drooling sticky juice.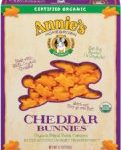 Annie's Homegrown Organic Cheddar Bunnies

When we are out and about and my toddler is about to gnaw his arm off, these cheesy snacks buy us enough time to finish up and get to some place with proper food. He loves them and they are healthier than the other cheesy crackers out there. They are small enough to eat in a single bite, but big enough that they don't fall out of those little snack cups. (You know the ones that let their hands in but keep the snacks from falling out.) I am pretty sure they sell these in individual servings too, but I portion them out in individual containers.


Horizon Organic Reduced Fat Milk

I couldn't believe it when I found this…Milk that doesn't need to be refrigerated until after it is opened! This stuff is amazing! I throw one 8 ounce serving in my bag and hit the road. If my toddler drinks it, cool. If he isn't in the mood, I just put it back in the pantry when we get home. The only downside with this wonderful product is that they don't have a whole milk version. (I called the company and made a suggestion though.) We buy the plain milk, but they also have chocolate, strawberry, and vanilla.